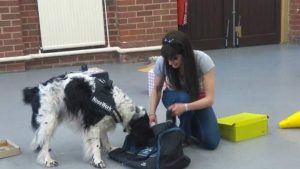 Are you looking for a fun activity that you and your dog can do together?
One that your dog will adore because it's something they love to do naturally?
then our scent work beginner classes could be just the thing for you!
No previous experience required

No lower or upper age limit

Suitable for all breeds, blind and deaf dogs

Mentally tiring

Helps build or strengthen bond between dog and handler
We will teach your dog how to find a specific scent based on what motivates them.
Starting with basic searches you and your dog will learn how to work as an effective team progressing to more complex searches but always within the dog's capabilities and at their own pace.
Advanced work involves using a secondary scent, searching for money and the dog being able to identify it's handler's scent.
Although dogs search one at a time, if you have a dog that would prefer not to be around other dogs and people whilst searching, ask about our 1 to 1 sessions.
£10 a session, the month to be paid for 1st Monday of the month.