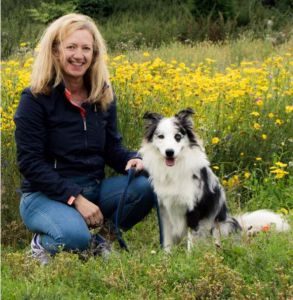 Sarah Western is the founder of The Puppy Trainer, which is now a Kennel Club Good Citizen Dog Scheme Listed Status Club, and has been working and training with dogs for over 15 years , 11 years as a dog walker and for the last 5 years teaching classes and home visits. She has completed and achieved a Distinction in the Higher Diploma in Canine Behavior and Psychology with Compass Education, and is now a Full Member of the International Society of Animal Professionals.
Sarah has gained a Canine Diploma , Emotional Healing Certificate and has been awarded the ISCP accredited Centre for the northwest, the first centre in the area. Sarah works for the ISCP as a student Liaison officer, guiding and helping students through their diploma.
Sarah is a proud member of the Pet Professional Guild, a Full member of the Association of INTO Dogs, a member of the Dog Welfare Alliance and is proud to be listed as an Accredited Animal Behaviorists with the ABTC.
Sarah has gained her instructors qualification plus certified level 1 & 2 clicker and target, with the IABTC with Angela White. Sarah is also the first of a group of people to become a qualified Canine Flow Practitioner with Caroline Griffith the Spiritual Dog Trainer.
As a Canine Flow Practitioner, Sarah will be taking Reach your Pawtential Workshops and running Relax Dog Training Classes.
Sarah regularly attends seminars, workshops, conferences with Top Dog Trainers from all around the world, keeping up to date with all the latest training methods.
The Dog Bite Conference speakers included Dr Jean Dodds, Dr Nick Thompson, Dr Sue Armstrong, Dr Karen Becker, Caroline Ingram, Rodney Habib, Dr Isla Fishburn and Caroline Griffiths.
The Dog Bite Conference 2015 speakers included Daniel Mills, Kendal Shepherd, Louise Swindlehurst, Nando Brown, Trevor Cooper and Victoria Stilwell.
Susan Freidman – Living and Learning with Animals.
Chirag Petal – 2 day workshop Giving Training back to Dogs.
Brenda Aloff – training and handling reactive dogs.
Kay Laurence sheep balls.
Sarah has also attended workshops and seminars by Jane Arden Kennel – Club Trainer of the year 2015, Victoria Stilwell – Unleash yours dogs Intelligence, Grisha Stewart- BAT, David Ryan – Predatory Chase, Trevor Cooper – Dog Law.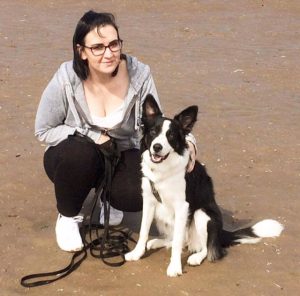 Hannah is a local dog walker who volunteers at the Playful Paws Class,
assisting me in delivering the elements required for the Puppy Kennel Club Good Citizen Award.
Along side this Hannah is working towards her Bronze Award in Obedience with her own dog Maggie.
Hannah has recently achieved her Canine First Aid and will be extending her knowledge of dogs through a Puppy Certificate, and through classes.